Geolocation
Type of Activity
This is a multi-week project where pieces of is could be broken off and presented as homework assignments.
Outline of Scientific Context
This project involves trying to predict the location of a wireless device based on the signal strength received at 6 different fixed access points (routers) within a building. It is of interest as GPS does not work well within buildings and the hope is to get more accurate predictions. The experiment associated with this particular data set also includes orientation, i.e. the direction the person holding the device is facing as this is expected to have a significant impact on signal strength when the person is between the device and an access point.
The data come from researchers at the university of Mannheim, Germany and we obtained via CRAWDAD. The project-specific site is http://crawdad.cs.dartmouth.edu/meta.php?name=mannheim/compass.
There are two sets of data - training (offline) data and test (online) data. There are approximately 1 million records in the offline data. There are many repeated measurements and significant complexity to visualizing the volume of data wrt the small number of factors. This clearly has a spatial component.
We (Deb and I) worked on this in 2007 (?). There is now a new data set and a different building plan.
Computational Topics Covered
read data into R, including handling time stamps, data structure and somewhat complex aggregation (by position (x, y) and orientation combinations and combining orientations that area approximately i/360 for i = 0, 45, 90, ...);
simple regular expressions, e.g. [;=] when using strsplit();
recognizing patterns in data and developing an algorithm to read them, and chosing between different approaches;
visualization, including simple plots for EDA, to more complex three-dimensional graphics to represent the signal strength on the floor plan, and optionally interactive visualization of the data
writing functions, e.g. nearest neighbor computation;
computational efficiency issues (using an approach that avoids unnecessary computations by being clever, e.g. avoiding recomputing distances);
modeling language for fitting signal strength to distance;
cross-validation and resampling.
Learning Objectives
Gain practice organizing large amounts of data and determining how to collapse/aggregate for further analysis.
validating of computational steps, especially when reading data. This involves going back to the original source and verifying that the data were read correctly.
Familiarity with approaches to effective visualization of large amounts of data
Expose students to creative ways to visualize complex, spatial data
Practice writing functions efficiently, e.g. nearest neighbor
Bring a project from abstract/high-level description to a completion.
Prerequisite Computational Topics
Essentials of string manipulation (without regular expressins). Eventhough one can use regular expressions, simple string manipulation will suffice.
data structures
graphics
writing functions
Prerequisite Statistical Background
None for the k-nearest neighbor approach. This can be taught as part of the activity.
If one uses the regression approaach, then of course the students should know enough about regression to be able to fit a model and understand what it means, to be able to use transformed variables and do diagnostics.
How to integrate into a class
This is a multi-week project. The data input can be covered separately, early on, where the focus would be on getting the data into a format for analysis. One can also give the students the data and have them explore it and produce interesting graphical displays and summaries when discussing graphics early in the course (after they have seen data frames and subsetting).
Level/Target Student
The target a udience is an advanced undergraduate/first year graduate student. The graduate student audience may delve deeper into the model fitting aspects of the project.
Breakdown of Computational Tasks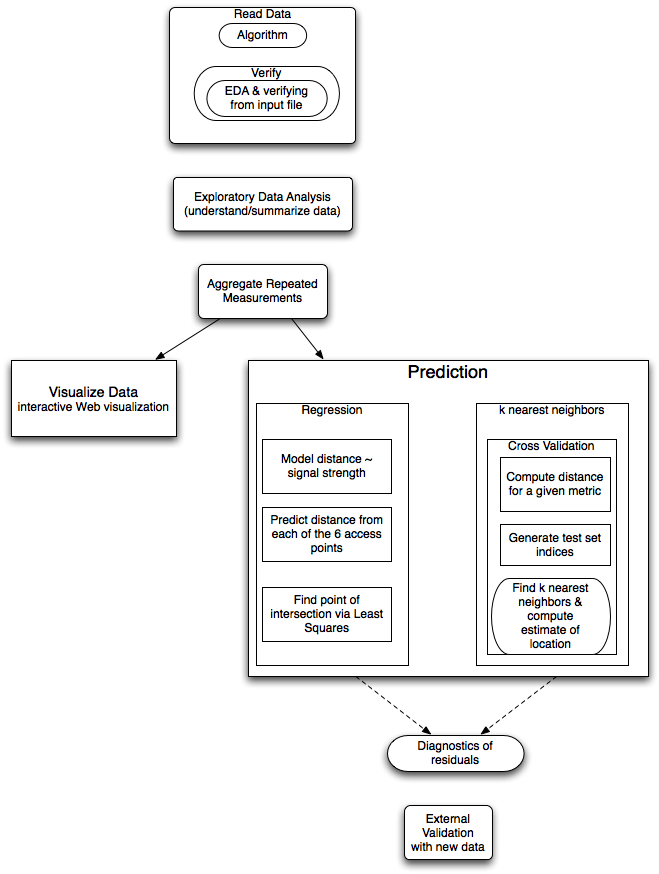 Solutions
+
[Data Access] Reading the data is somewhat complicated because each line is of the form


t=1139692477303;id=00:02:2D:21:0F:33;pos=0.0,0.05,0.0;degree=130.5;00:14:bf:b1:97:8a=-43,2437000000,3;00:0f:a3:39:e1:c0=-52,2462000000,3;00:14:bf:3b:c7:c6=-62,2432000000,3;00:14:bf:b1:97:81=-58,2422000000,3;00:14:bf:b1:97:8d=-62,2442000000,3;00:14:bf:b1:97:90=-57,2427000000,3;00:0f:a3:39:e0:4b=-79,2462000000,3;00:0f:a3:39:e2:10=-88,2437000000,3;00:0f:a3:39:dd:cd=-64,2412000000,3;02:64:fb:68:52:e6=-87,2447000000,1;02:00:42:55:31:00=-85,2457000000,1
t=1139692477555;id=00:02:2D:21:0F:33;pos=0.0,0.05,0.0;degree=130.5;00:14:bf:b1:97:8a=-43,2437000000,3;00:14:bf:b1:97:8a=-43,2437000000,3;00:0f:a3:39:e1:c0=-52,2462000000,3;00:14:bf:b1:97:90=-57,2427000000,3;00:14:bf:b1:97:8d=-64,2442000000,3;00:0f:a3:39:e0:4b=-77,2462000000,3;00:0f:a3:39:dd:cd=-62,2412000000,3;02:00:42:55:31:00=-85,2457000000,1;02:64:fb:68:52:e6=-88,2447000000,1


So we have to get the time stamp, then the MAC of the hand-held device, then the position and orientiation. Then we have a ragged array of mac=triple.

This is one of those formats that requires some thought to identify the pattern that makes the code simple to read into an R data structure. One also has to think carefully about the right data format.

The auxiliary data giving the locations of the access points can be given as a CSV file or an RDA file.

[EDA] Given the data, the students explore it.

Compute the number of repeated observations at each location and orientation.
Find the number of devices that were detected and the different types. One can even look up the MAC address to find the type of device, i.e. the vendor and model.
Look at the times the measurements were taken.
Look at the distribution of the signal strengths
Look at signal strength as a function of (Euclidean) distance.

Students need to collapse the repeated measurements to compute average/median for each location and orientation for each access point.

One significant activity is to come up with graphical displays of this data that summarize it effectively. (Or even create interactive plots where a plot of, say, the densities of the signal strengths from a particular point to each of the 6 access points, is displayed in one "panel" when the viewer mouses over that point in the building layout.)

[Prediction]
In this stage, we develop a predictor for the location of the hand-held device based on the signal strength between the access points and a new device. There are two approaches students might explore.

k Nearest Neighbors

Here we predict the location of an observation based on its 6 signal strengths - 1 to each of the access points. We find the k observations in our observed data sets based on Signal Strength distances. Then we take an average of their locations to get our prediction.

We use cross-validation to determine k, the choice of metric, and how to weight the neighboring locations (e.g. uniform weights or weights inversely proportional to distance).

This again (like the Spam problem) raises computational issues regarding computing the distance matrix and k-nearest neighbors generally. Cross-validation is introduced.

Regression
This version exploits the existence of a relationship between signal strength and distance. We develop regression models to determine the distance of a point based on its signal strength to an access point. For each observation, we end up with an estimate of distance to each of the 6 access points. If there were no errors, we would only need two of these and we could find the point of intersection of the circles centered at the two access points with the predicted radii. However, there are errors and so we use least squares to "triangulate" a location.

There are all sorts of issues with standard errors of the different estimates and weighting the predictions, i.e. variance of the distance estimates probably increas with distance (i.e. less accurate the further away we are). We could use tehse in a weighted least squares to solve the "point of intersection".

[EDA] Diagnose the predictions, trying to understand why it does better in some places than others and see if we can modify the approach to improve the results.

Validation of the predictor based on an entirely new data set.
Cautionary Notes
There can be confusion computing distances in the space of signal strength and distance in the physcial space of the building. The k-nearest neighbors works on the signal strengths and distance between two observations is the sum over access points of the squared differences between the signal strengths to the same access point.
Extensions
There are opportunities to create interesting three-dimensional plots of the data and of the cross-validation errors for the k-nearest neighbors for different metrics and values of k.
A comparison approach in the regression avenue is to do a simple minded prediction of the x and y coordinates of the unobserved.
The volume of data can make visualization challenging, and this topic can be examined more deeply.
Different Directions
Creating an interactive visualization for the Web.
Two approaches to prediciting the location are provided here. An additional approach was considered by David Madigan, Colin Mallows, ... They used a hierarchical Bayesian model to predict location. This approach brings in MCMC and using WinBUGS or JAGS. See the summer school in 2006.
Grading Suggestions
We have tried using a competition, where the submission that predicts the best on the online/test data that have been held out receives a prize.
Similar Activities/Assignments
The SPAM and primary election results activities are similar in being full multi-week projects. They cover different statistical techniques, but all involve serious data acquisition/input, processing and exploratory data analysis, and then use a statistical technique.
---
Duncan Temple Lang <duncan@wald.ucdavis.edu> Last modified: Sun Jul 26 2009