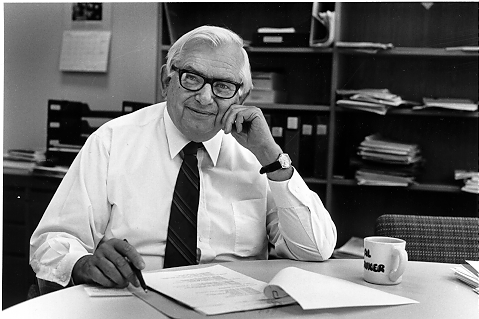 Albert H. Bowker
Albert Hosmer Bowker passed away peacefully on January 20, 2008 at age 88. An obituary can be found at http://www.berkeley.edu/news/media/releases/2008/01/20_bowker.shtml. Details regarding a memorial service at the University of California, Berkeley will follow.
---
Albert Bowker (Professor Emeritus) has a long history of public service. He has been Chancellor of the University of California, Berkeley and of the City University of New York, Dean of the Graduate Division of Stanford University, and Dean of the School of Public Affairs of the University of Maryland. He was also the first Assistant Secretary for Postsecondary Education in the newly formed Department of Education.
He was the founding Chairman of the Statistics Department at Stanford and has been President of both the Institute of Mathematical Statistics and the American Statistical Association.
Grandchildren - Bliss and Schaefer